Cool Products!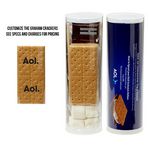 Small Campfire S'mores Kit Tube - 48 Hou...
This small campfire S'mores Kit includes 4 graham cracker sheets, 4 marshmallows, 2 Hershey's milk chocolate bars and 2 toasting sticks, which makes 4 servings. Cooking directions are printed on the b...
$11.83 - $13.08
Yes, you're in the right place. Your next promotion starts right here!
Welcome to Crider & Company Ltd. We help you achieve your business goals through a greater return on your promotional advertising investment.
With this site and our guidance we'll help you develop new ideas to build top of mind awareness in your customers and add a creative punch to your promotions.
Please feel free to share our website with others!