Cool Products!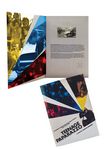 Video In Print Media Player For Custom P...
The perfect fusion of video, print, and sound. Incorporate high quality video content into any print collateral. Multiple screen sizes available. Up to 15 minutes of video content. Rechargeable batter...

Yes, you're in the right place. Your next promotion starts right here!
Welcome to Crider & Company Ltd. We help you achieve your business goals through a greater return on your promotional advertising investment.
With this site and our guidance we'll help you develop new ideas to build top of mind awareness in your customers and add a creative punch to your promotions.
Please feel free to share our website with others!