Cool Products!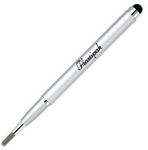 Stylus-550 & Paint Brush
Multi-functional capacitive stylus with stylus paintbrush for art. Extendable barrel keeps brush safe and prevents damage. Stainless barrel in 3 color choices. Fully compatible on iPhone, iPod, Androi...
$8.60 - $9.60
Yes, you're in the right place. Your next promotion starts right here!
Welcome to Crider & Company Ltd. We help you achieve your business goals through a greater return on your promotional advertising investment.
With this site and our guidance we'll help you develop new ideas to build top of mind awareness in your customers and add a creative punch to your promotions.
Please feel free to share our website with others!