Cool Products!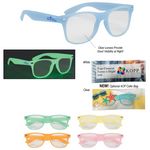 Glow In The Dark Frame Glasses W/ Clear ...
Great for parties or any fun night event. Hold under normal light for 30 seconds to charge before use. All glasses glow green. All glass frames glow green. Clear lenses for visibility anytime! Made of...
$1.59 - $2.78
Yes, you're in the right place. Your next promotion starts right here!
Welcome to Crider & Company Ltd. We help you achieve your business goals through a greater return on your promotional advertising investment.
With this site and our guidance we'll help you develop new ideas to build top of mind awareness in your customers and add a creative punch to your promotions.
Please feel free to share our website with others!